The South Pacific of Costa Rica, Amazing!
The South Pacific of Costa Rica, Amazing!

The southwestern corner of Costa Rica is the least populated, and by far the least visited area of the country. It borders a largely unpopulated part of Panama; consequently, large sections of primary rainforest have been spared from development. More than of the peninsula's forests are set aside as a huge park named Corcovado.
Sizable areas of the coastline are also undeveloped, especially north and south of Golfito. And, in a cooperative effort with neighboring Panama, a huge chunk of Costa Rica and a part of Panama were set aside as La Amistad International Park, a mountainous wooded area that straddles the Continental Divide. Contiguous with Chirripo, Hitor Cerere, Tapanti-Macizo de la Muerta and other parks, teh total area under an umbrella of protection is 340,000 hectares/839,800 acres.

On the other hand the southern mountain slopes from San Isidro in the Valle del General, down through Buenos Aires and south to San Vito in the Valle de Coto Brus, have been extensively cultivated for agriculture, especially pineapples and coffee. Banana and oil palm plantations line the hot lowlands from Golfito south into the Valle de Colorado.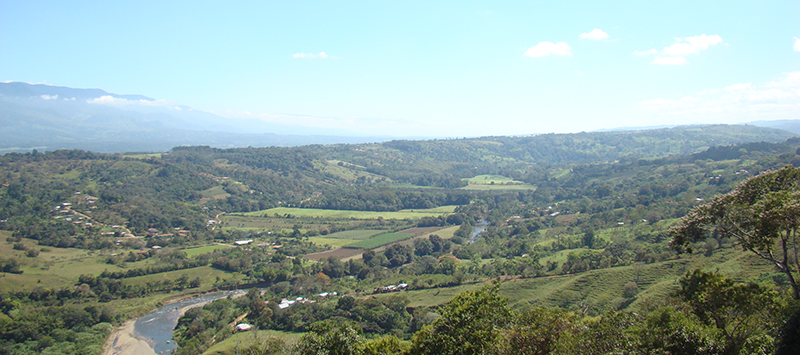 It`s a wild country in parts - with deluges of warm rain. Dress appropriately. The South Pacific region boasts wonderful scenery, fabulous beaches, dramatic mountains, endless rainforests, big tube waves, white sand beaches, dark green hillsides of coffee, plus a dolphin and whale playground - with tons of budget hotels as well as remote luxury Eco lodges to enjoy.
Whale Watching season is best from August through November, when whales pass in migration, breed and frolic in Golfo Dulce. Many tours and hotels offer whale watch cruises.
Off the coast from Drake Bay is the Isla del Cano Biological Reserve, a popular, year-around day-trip to explore and hike, visit the cemetery of prehistoric peoples, or snorkel and dive in the clear waters. Difficult to reach and far from San Jose, the south of Costa Rica a very special, out-of-the-ordinary vacation. You can go with a range of package stays from San Jose, or just wander around on your own.
 
Sierpe Dock: the main entrance to Corcovado and Osa Peninsula