Dear customers,
Protocols for the care of our clients and our drivers
Due to the Covid-19 Pandemic, the Costa Rican Ministry of Health, the Costa Rican Tourism Institute (ICT) and the private transport companies have defined the following hygiene protocols for the use of tourist transport units:
Passengers
When traveling to Costa Rica, your personal belongings list should include masks or face shields. These are mandatory use in all transport units: Land, Air, Aquatic, etc.
You must include in your luggage masks/face shields for personal use. It is mandatory for use within transport units
You must always remain in your social bubble
You must maintain social distance from other people who do not belong to your social bubble.
Do not shake hands or hugs
Airport Meet & Greet
Our driver will wait for you at the airport arrival`s area holding a sign with your name clearly printed on it. He will be wearing a mask or face shield.
Before entering the transport unit:
Please wear your mask/face shield. It must be part of your personal travel items. If you do not have a one, the driver can provide you with a disposable mask (it costs $ 2.00)
The driver will offer you alcohol gel to disinfect your hands
Driver will open access doors for you to minimize contact with surfaces
The driver will spray alcohol or disinfectant on your bags
Do not allow outsiders to help with luggage
During the road trip
During the road trip, keep your mask on at all times. If you need to make any stops to eat, or use the bathroom or other necessity, please check the following information:
Wash your hands with soap and water before taking off your mask (avoid to touch it)
Before entering the transport again you must wash your hands with soap and water and disinfect again with gel alcohol.
Sanitization of the vehicles
To ensure the safety of yourself as the passenger and the safety of our driver we sanitized all vehicles regularly.
These are the standards for cleaning:
Full Vehicle Clean – at the end of each journey.
Passenger Touch Points – at end of each journey with a passenger:
Door handles, both internal and external
Passenger assist grab handles just inside the door
Seats
Seat belts and seat belt release buttons
Cup holders
Window controls
Arm rests
Inner door lining
Payment terminals
Boot lid
Driver Touch Points – after a journey.
The key fob and keys
Steering wheel
Transmission shifter and handbrake
Internal and external door handles
Dash controls such as volume knob, heating controls, mirror adjustment
Indicator and wiper stalks
Pedals: Gas, Breaks, Clutch
What kind of products do we use for cleaning?
Soap and water
70º plus alcohol
Biodegradable disinfection products
It is important to mention that the use of chemical products can result in the affection of people with acute allergies. That is why the most recommended products to disinfect is the Soap or detergent and 70º Plus Alcohol.
We use a water-base vaporizing machine that helps to clean all surfaces killing the 99% of germs and virus for extended period of 72 hours.
Simple steps to stop the spread
Here are practical personal hygiene tips:
Avoid touching your mouth, eyes, and nose with unwashed (or gloved) hands.
Wash your hands regularly throughout the day or use hand sanitizer.
Wash body, and hair (including facial hair) thoroughly every day.
Wash your hands after coming into contact with money.
Cover your nose and mouth when coughing and sneezing with a tissue or a flexed elbow. Put tissues in the bin.
Avoid touching other surfaces in any areas with unclean hands.
Hygiene items in the vehicle
All our vehicles include:
Disposable masks (for sale)
Liquid Soap
Lysol
Disposable towels
Alcohol gel
Exclusive trash can
Finally, all our drivers are certified with Hygiene Training Course in order to guarantee vehicle cleanliness and customer care during the road trips. Is our duty to protect each other and drive you in safest way to any destination within Costa Rica.
Please contact us if you need to cancel or change your trip date. We are totally committed to give you the best customer support possible in these uncertain times, we appreciate your collaboration and hopefully we will see you soon in Costa Rica.
Sincerely,
Erick Hidalgo President, Chief of Operations Costa Rica Trip Guide / Transportation in Costa Rica
Select your pickup and dropoff destinations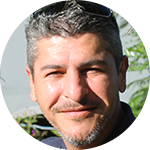 Let's have an amazing experience!
Erick Hidalgo - CEO, Costa Rica Trip Guide / Transportation in Costa Rica
Testimonials
Top notch provider! Professional, friendly, reliable. Francisco is a gem!

Steve Sheppard
I traveled on several occasions with Erick and I highly recommend the company. Very friendly, resourceful and reliable.

Catrin Gab
I have used this company twice in the past and most recently in March 2016. Very very reliable, timely arrival, extremely friendly drivers is the least I can say. Also if you need to contact Erick, he is always reachable on his phone and extremely helpful and friendly

My family loves Costa Rica which is why we have gone back thrice. This time we went with a group of 18 friends and all arrangements for various transportations from Liberia airport to Guanacaste, Gaunacaste to La Fortuna and then various drop offs was all done by Costa rica trip guide and of course handled extremely well

Highly recommended!!!

Apurva Modi
We had a great time on this tour! We got to see all of the highlights of Costa Rica in a relaxing but adventure filled week. The service was excellent as well. Would recommend to a friend

pshah51
We can't say enough positive things about our transportation service with Erick Hildago while in Costa Rica. He provided personal transportation for us during our entire stay. From San Jose to Arenal, to Monte Verde, to Manuel Antonio and then back to San Jose.

He very much helped us understand Costa Rica in ways we never could have without him. He helped make our trip a truly wonderful vacation. Traveling with Erick is much more than being driven from location to location. He's a marvelous guide that will go that extra mile to make sure you have the best time possible.

Okie Joe