Where to eat in Manuel Antonio
Where to eat in Manuel Antonio

A guide of favorite places to eat in Manuel Antonio - Its hard to say where the best places are specialy when there are new ones but these are my favorite and you may want to check when visit Manuel Antonio
Barba Roja - Perched high on a hill, with stunning views over jungle and ocean, the Barba Roja has long been one of the more popular restaurants in Manuel Antonio, although more for its lively ambience and stellar location than for culinary excellence. The rustic interior is done with local hardwoods and bamboo, which gives the open-air dining room a warm glow, and there's an outdoor patio where you can sit for hours taking in the view or the stars. There's even a gallery attached to the restaurant that displays original art by local artists. On the blackboard are daily specials such as grilled fish steak served with a salad and a baked potato. Portions here are massive. The restaurant is open for breakfast and serves delicious whole-wheat French toast. For lunch, there are a number of different sandwiches, all served on whole-wheat bread.

El Gran Escape - This Quepos landmark is consistently one of the top restaurants in the region. The fish here is fresh and expertly prepared, and the prices are reasonable. If that's not enough of a recommendation, the atmosphere is lively, the locals seem to keep coming back, and the service is darn good for a beach town in Costa Rica. Sturdy wooden tables and chairs fill up the large indoor dining room, and sportfishing photos and an exotic collection of masks fill up the walls. If you venture away from the fish, there are hearty steaks, giant burgers, and a wide assortment of delicious appetizers, including fresh tuna sashimi. El Gran Escape's Fish Head Bar is usually crowded and spirited, and if there's a game going on, it will be on the television here.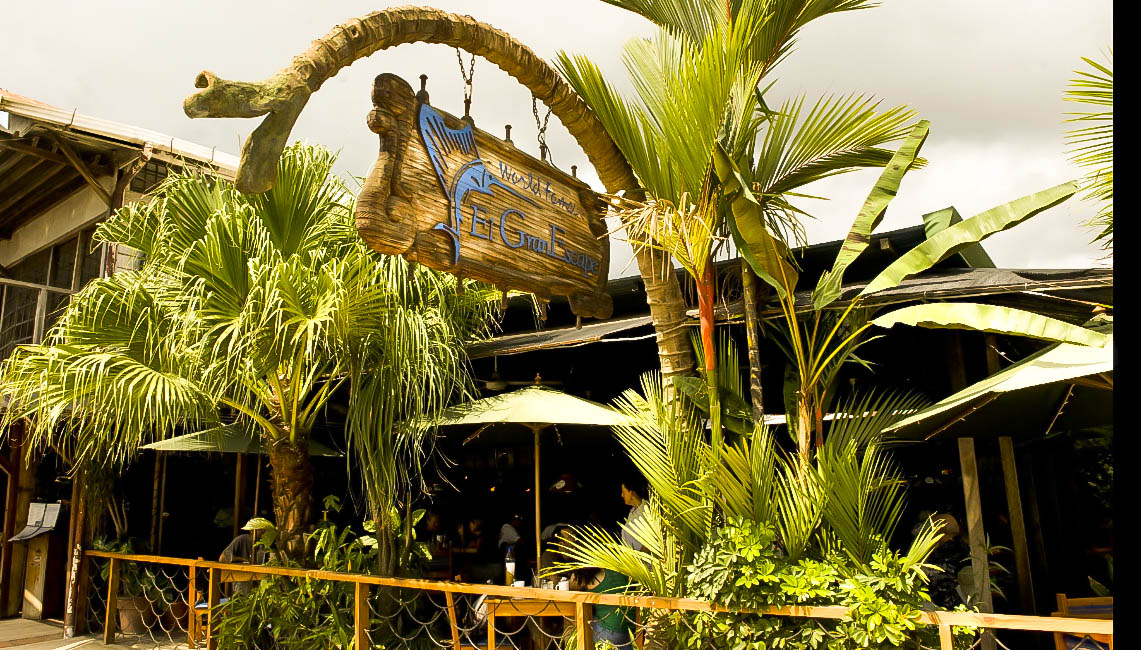 Karola's - The steep driveway leading down to this open-air restaurant is within a few feet of the Barba Roja parking lot but is easily overlooked. The restaurant is across a footbridge from its parking lot and is set against a jungle-covered hillside. Far below, you can see the ocean if you're here during the day. Grilled seafood is the specialty, but there's also a wide range of international treats including sashimi, fish burritos, and Caribbean chicken. Desserts are decadent, and you can order a variety of margaritas by the pitcher.
Restaurant Vela Bar - The Vela-Bar is a small and casual place that serves some of the more creative cuisine in Manuel Antonio. This is also the best of the restaurants closest to the park entrance. Seafood and vegetarian meals are the specialties. The most interesting dishes are almost always the specials posted on the blackboard. A typical day's choice might include fresh fish in sherry or wine sauce with curried vegetables
Restaurant Marlin – This long-standing open-air joint is the definitive roadside restaurant serving the area around the National Park entrance and Playa Espadilla. Fresh fish, hearty casados, reasonable prices and an ocean-view.
El Patio Bistro Latino – This small bistro-style restaurant is an outgrowth of the popular coffeehouse and roasting company Café Milagro. By day you can get a wide range of coffee drinks and specialties, as well as simple breakfasts, fresh-baked sweets, and a variety of salads, sandwiches, and light lunch dishes. By night you'll find a small and regularly changing list of inventive main dishes that take advantage of local ingredients and culinary traditions. So the fresh mahimahi may come steamed in a banana leaf with a spicy mojo, and the tenderloin could feature a tamarind glaze and be served over some roasted local sweet potatoes (camote).

Bamboo Jam – One of the best restaurants in Manuel Antonio. Right on the way to the national park, Bambu Jam has a wonderful selection of meat and fish dishes. In your next visit don't forget to try the Mahi Mahi Blackened with Mango Chutney, Beef Tenderloin with Red Wine Sauce or the Surf and Turf in Seafood Sauce and the wonderful selection of drinks to taste like Mai Tai, Long Island Iced Tea and Bambu Jam. This restaurant is open from 6 p.m. to 10 p.m. Credit cards are allowed. Enjoy the live music on Tuesday and Friday nights until 1 or 2 a.m.
El Avion - Set on the edge of Manuel Antonio's hillside with a great view of the ocean and surrounding forests, this restaurant is actually housed under some permanent tents and the starboard wing of a retired army transport plane, hence the name El Avión, which means "The Plane." This specific plane was actually shot down by the Sandinista army, leading to a scandal that uncovered illegal CIA supply missions to the Contra rebels in Nicaragua. Today you can enjoy well-prepared seafood and steaks as you take in the unique surroundings and glow of history. Inside the fuselage you'll also find a small bar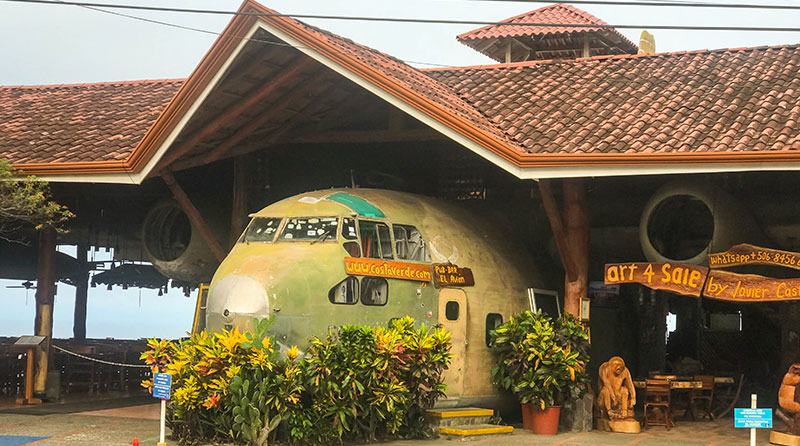 Ronny's Place - Located in the middle of a 90 acres farm, where the restaurant is the only building you can find Restaurante y Mirador Mi Lugar Ronny´s Place, a beautiful "rancho" at farm´s highest mountain peak, allowing for a magnificent view of a 2 bay private beach and horizon. Our privileged location, make us the only restaurant in town where you can see the sunset 365 days a year. Perfect place for rehearsal dinner parties, romantic sunset dinners, birthday parties and any special event where a beautiful sunset will be appropriate. After many years of working for one of the area´s best hotels, Mr. Ronny Alpizar decided to start his own business. In 2003 he starts "Mi Lugar" Restaurant with the idea of quality and best service in mind, "Mi Lugar" means "My place" so because of the owner´s name: "Ronny" people started to name the restaurant "Ronny´s Place" "Mi Casa es su Casa" which means "Mi house is your house" is today´s proud slogan of Ronny´s Place, where Mr. Ronny and his experienced team will personally take care of you during your visit. Our menu includes international and the best of our local cuisine, featuring the fresher grilled sea food and the best prepared beef and pork meats in town. Come enjoy our exclusive "Mahi - Mahi" and "Red Snapper" fish cocktails, and our mixed seafood cocktail perfectly marinated. Let us satisfied the most exquisite gourmet taste!

Café Agua Azul - overlooking the gorgeous Pacific offers large portions of fabulous food at great prices. Wraps, salads, Big Ass burgers, burritos, seafood specials and great cocktails, this is the place to be for lunchtime or dinner! Open 11am to 10pm, closed Wednesdays. Located above Coldwell Banker in the Hotel Villas el Parque complex on the main road to Manuel Antonio.
Kapi Kapi - Offers true fine dining in Manuel Antonio with Seafood Cigars, Thai lettuce wraps for starters and Fire Roasted Red Snapper, Sugar Cane Skewered Prawns, Lobster Ravioli as entrees just to name a few. Excellent wines, coffees, and deserts in an exquisite setting. Open daily 4-10pm.
Restaurant Mar y Luna - Lunch, Dinner, Bocas, Bar, Live Entertainment. Starters range from sashimi to seafood soup, and the most popular entrées are grilled fish with peppers and onions, shrimp scampi, lobster, and a mariscada.
La Luna (Gaia Hotel) - "La Luna" features both international and local cuisine and welcomes special dietary need selections. Sample specialties such as:

Our Costa Rican breakfast with Gallo Pinto (rice & beans), fried plantains, eggs and tortillas
Fresh filet of Costa Rican Tuna, pan-seared rare, crusted with fresh ginger & panko, served with a vegetable and orange-scented risotto & toasted sesame vinaigrette
The Gorgonzola & Sun-Dried Tomato Tart is a great starter and the best way to finish is with our Vanilla Bean Crème Brulee