Arenal Observatory Lodge, great place to explore
Arenal Observatory Lodge, great place to explore
The beautiful region of the northern plains of Costa Rica sits in the shadow of its more famous neighbor, Arenal Volcano. The Arenal Volcano is so fascinating and delightful and the awe-inspiring natural character of the environment in Arenal immerses you in wildlife and the rainforest. 
The region is also a hub for adventure tourism. There are exciting natural trails in the area you don't want to miss, especially those at the Arenal Observatory Lodge. Around Arenal Observatory Lodge, you might spot "Tica", an ocelot that used to visit the hotel surroundings looking for food. Nowadays, Tica lives on the large property, and when you walk the lodge's trails, you might see her drinking water or crossing from one place to another.
During the rainy season, new small waterfalls all over the property are part of the area's richness and sometimes give the landscape unexpected new scenery to admire. When the sun goes down, about 5:30 p.m., the mysterious mist appears, enveloping the volcano, and creating fascinating corners to explore on a night-walk tour.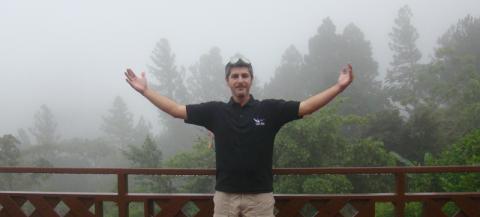 I am convinced that every day at Arenal Observatory Lodge is a new and different experience. I must expect the unexpected ... new creatures can surprise me. And the more I investigate the more amazing surprises I seem to find in these mountains full of life. Arenal Observatory Lodge is not just a place to stay near the Arenal Volcano. On its more than 250 hectares, nature is exposed like when we were kids looking for living treasures. Arenal Observatory Lodge is a place to learn and meditate with nature, walk and breathe pure fresh air.